Jewish World Watch
Congregation Shir Ami has joined with other local synagogues as a member of Jewish World Watch, an organization dedicated to help stop the genocide in Darfur, Sudan. Please contact Tom Rogers or visit www.jewishworldwatch.org for more information. You can show your support by purchasing wristbands (1 for $4, 3 for $10) or by making a donation ($36 purchases a water well, $100 pays for 8 stoves) to provide resources to those in need. To donate, contact Tom Rogers or Fran Kobulnick.
Bikkur Cholim Training with Rabbi Jan Offel
Bikkur Cholim is one of the most important mitzvot we can do. In addition, a ll of us have relatives and friends who we either visit now or will one day. Last March, Rabbi Jan Offel conducted a special Bikkur Cholim training session for our temple members, families and friends. Rabbi Jan taught us how to conduct meaningful, but not intrusive, visits with the sick and with the elderly. If you would like to make a bikkur cholim visit to someone, or know someone who would like a visit, please contact Fran Kobulnick.
Blankets Donated to Tarzana Hospital's Neonatal Intensive Care Unit
Ladies from our Social Action Committee regularly knit and crochet handmade baby blankets and present them to the Neonatal Intensive Care Unit at Tarzana Hospital. Our group always has a wonderful time when they go to deliver these blankets to the little ones. Below is a picture taken at one of our visits.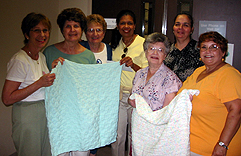 Remember, this is an ongoing mitzvah project. If you would like to help out by knitting, crocheting or to donate wool, please contact Sandy Cooper for more info.
PILLOW SHABBAT
Each year our Social Action Committee hosts a themed Shabbat service when our congregation brings new items which are then given to Tamar House and Hope Cottage, two local domestic violence shelters that we sponsor. This year we had a Pillow Shabbat and collected over 100 pillows for these domestic violence victims. The pillows and other items we donate are given to mothers and children when they enter the shelters and they take them with them when they leave the shelters to start a new chapter in their lives free of domestic violence.
Adoption of Jewish Families of Domestic Violence Victims and MEND Families for the Holidays
We adopted 3 families of domestic violence victims (3 moms and a total of 6 children), 1 MEND family (a mom and 5 children) and another Jewish family in need (a mother, father and 5 children) for the holiday season. Each family received new warm winter clothes and jackets, other necessities, toys for all the kids, and food vouchers for those families who needed them. In addition, we were able to get a new stove donated for the MEND family as well as a used computer, and we also gave nice personal gifts to each of the moms. Thanks to the generous support of our temple members, we were able to both fulfill these families' wishlists and also add extra necessities and goodies as well.
Hanukkah Party at West Valley Convalescent Hospital
In December we had our annual Hanukkah Latke/Holiday Party at the West Valley Convalescent Home. Each resident was given a special gift bag, beautiful plant and plenty of latkes (thanks Majestic Caterers!). They also lit the menorah with members of the Social Action Committee and sang Hanukkah songs. Everyone had a good time and the residents were very appreciative to see us during the holiday season.
Mitzvah Day 2005
For Mitzvah Day 2005, we had an encore performance of our congregation wide food drive for the needy. Thanks to everyone's generosity, our teams of drivers were able to collect 5,196 pounds of food, which was weighed, sorted, packaged into more than 150 hefty boxes and delivered to 47 apartments of elderly Jewish residents as well as to needy families with children in local public schools. Each apartment also received frozen kosher chicken, challah, fresh produce and a 5 lb. bag of potatoes. The project proved to be both a lot of work but also very rewarding. For photos, check back soon.
Light The Night Walk at Warner Center to benefit the Leukemia & Lymphoma Society
On September 25, 2005, more than 30 Shir Ami volunteers walked approximately 2 miles in Warner Center to show their support in the fight against blood cancers. The "Light The Night" walk gets its name because each walker carries a lighted balloon – white for cancer survivors, red for those walking in memory or honor of loved ones. In addition, we had a Congregation Shir Ami booth at the event, which featured a tribute to Marc Fremed, a strong advocate for the Leukemia & Lymphoma Society and member of our temple until he lost his fight with cancer last year. Thanks to the efforts of our team, we raised over $8,500 for this very worth cause. To see pictures from this amazing event, click here.
Walk Around Lake Balboa


Last June, we had our third Walk Around Lake Balboa, this time to raise money for ARMDI (the Israel equivalent of the American Red Cross). Thanks to everyone's support, a very substantial amount was raised for this worthy cause. Past Walks Around Lake Balboa have benefited other charities, including AIDS Project Los Angeles and the Kidney Foundation, two favorite charities of Pauline Lampkin, a beloved member of our congregation who passed away at the young age of 95. We always have a large turnout of Shir Ami walkers, all proudly wearing their official Shir Ami Mitzvah Patrol t-shirt, for this event, which is followed by a nice brunch at a local deli. Click here for pictures.
Mitzvah Day '04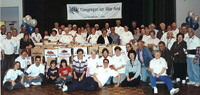 On Mitzvah Day 2004, we tried our first-ever congregation wide food drive. 20 teams of Mitzvah Patrol volunteers collected a total of 3,665 pounds of food from 125 homes. The food was brought to Kol Tikvah where it was weighed, sorted, and packaged into 148 hefty boxes for needy families. Nearly 100 people showed up to help! In addition, we sorted and packaged 200 gift bags of new children's toys which were given to sick children in Children's Hospital in Los Angeles and to the Tarzana Hospital Pediatric Unit. We are very proud of our congregation's support and the success of this year's Mitzvah Day. To see the pictures, click here.
Ongoing Mitzvah Projects
Don't forget, we collect all of the following throughout the year:
Cell phones, batteries and chargers which we give to women in domestic violence shelters so that they can call 911 in case of emergency.
New and used books, which we donate to local hospitals.
New toiletry items (i.e. travel size, from hotels, etc.) which we give to patients in nursing homes and to women in the domestic violence shelters.
Used printer cartridges, which we donate to the Leukemia & Lymphoma Society. All sizes of cartridges for any printer are acceptable. Please contact Jeff Kobulnick if you have one to donate.
Please contact Fran Kobulnick if you have any of these items to donate, or any other items that you might be getting rid of that others can use.